For product technical information, pricing and availability contact our sales department at:
(219) 548-3799
sales@allianceorg.com
Neodymium Magnets, also known as NdFeB or simply Neo, are the most commonly used magnet materials for high tech motors and sensors. After being introduced in the mid 1980's they have rapidly gained market share due to their high magnetic strength and resistance to demagnetization. They do not have the high temperature resistance of other magnet materials, however they can be used in applications with maximum operating temperatures of 220 C. Because of a high iron content, they will corrode over time if not plated or coated. As with all magnet materials, NdFeB should never be used as a structural element in an application.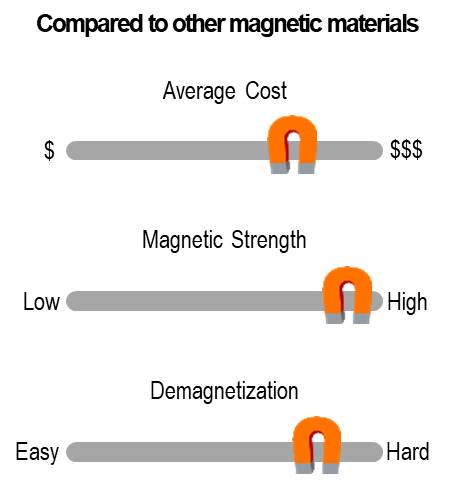 Alliance NdFeB Grades
Remanent
Induction
Coercive
Force
Intrinsic
Coercive Force
Maximum
Energy Product
Reversible
Temperature Coefficients
Continuous
Working Temp.
Br (Gauss)
Hc
(Oe)
Hci
(Oe)
(BH)max
(MGOe)
α
Br
ß
Hcj
Tw
(°C)
Min
Max
Min
Max
Min
Max
Min
Max
%/°C
%/°C
Max
N55
14,600
15,000
10,800
12,800
11,000
18,000
52.0
56.0
-0.11
-0.68
70
N53
14,300
14,800
10,700
12,700
12,000
18,000
51.0
54.0
-0.12
-0.65
70
N52
14,200
14,800
10,500
12,500
12,000
18,000
50.0
53.0
-0.12
-0.65
80
N50
14,000
14,500
10,500
12,500
12,000
18,000
48.0
51.0
-0.12
-0.65
80
N48
13,600
14,200
10,500
12,500
12,000
18,000
46.0
49.0
-0.12
-0.65
80
N45
13,300
13,700
10,500
12,500
12,000
18,000
43.0
46.0
-0.12
-0.65
80
N42
12,900
13,300
10,500
12,500
12,000
18,000
40.0
43.0
-0.12
-0.65
80
N40
12,600
12,900
10,800
12,800
12,000
18,000
38.0
41.0
-0.12
-0.65
80
N38
12,200
12,600
10,800
12,800
12,000
18,000
35.0
39.0
-0.12
-0.65
80
N35
11,700
12,200
10,800
12,800
12,000
18,000
33.0
36.0
-0.12
-0.65
80
N33
11,400
11,700
10,800
12,800
12,000
18,000
30.0
34.0
-0.12
-0.65
80
N30
10,800
11,400
10,800
12,800
12,000
18,000
28.0
31.0
-0.12
-0.65
80
N52M
14,500
14,800
12,800
14,800
14,000
20,000
50.0
52.0
-0.12
-0.65
100
N50M
13,900
14,500
13,200
15,200
14,000
20,000
48.0
51.0
-0.12
-0.65
100
N48M
13,700
14,100
12,800
14,800
14,000
20,000
45.0
49.0
-0.12
-0.65
100
N45M
13,300
13,700
12,400
14,400
14,000
20,000
42.0
46.0
-0.12
-0.65
100
N42M
12,900
13,300
12,000
14,000
14,000
20,000
40.0
43.0
-0.12
-0.65
100
N40M
12,600
12,900
11,800
13,800
14,000
20,000
38.0
41.0
-0.12
-0.65
100
N38M
12,200
12,600
11,500
13,500
14,000
20,000
35.0
39.0
-0.12
-0.65
100
N35M
11,700
12,200
11,000
13,000
14,000
20,000
33.0
36.0
-0.12
-0.65
100
N33M
11,400
11,700
10,700
14,700
14,000
20,000
30.0
34.0
-0.12
-0.65
100
N30M
10,800
11,400
10,200
14,200
14,000
20,000
28.0
31.0
-0.12
-0.65
100
N50H
14,100
14,500
13,000
15,000
17,000
25,000
48.0
50.0
-0.11
-0.58
120
N48H
13,700
14,100
12,700
14,700
17,000
25,000
45.0
48.0
-0.11
-0.58
120
N45H
13,300
13,700
12,200
14,200
17,000
25,000
42.0
46.0
-0.11
-0.58
120
N42H
12,900
13,300
12,000
14,000
17,000
25,000
40.0
43.0
-0.11
-0.58
120
N40H
12,600
12,900
11,800
13,800
17,000
25,000
38.0
41.0
-0.11
-0.62
120
H38H
12,200
12,600
11,500
13,500
17,000
25,000
35.0
39.0
-0.11
-0.62
120
N35H
11,700
12,200
11,000
13,000
17,000
25,000
33.0
36.0
-0.11
-0.62
120
N33H
11,400
11,700
10,500
12,500
17,000
25,000
30.0
34.0
-0.11
-0.62
120
N30H
10,800
11,400
10,000
12,000
17,000
25,000
28.0
31.0
-0.11
-0.62
120
N50SH
13,900
14,300
13,000
15,000
20,000
28,000
47.0
50.0
-0.11
-0.60
150
N48SH
13,700
14,100
12,700
14,700
20,000
28,000
46.0
49.0
-0.11
-0.60
150
N46SH
13,500
13,700
12,500
14,500
20,000
28,000
44.0
47.0
-0.11
-0.60
150
N44SH
13,200
13,500
12,300
14,300
20,000
28,000
42.0
45.0
-0.11
-0.60
150
N42SH
12,900
13,200
12,100
14,100
20,000
28,000
40.0
43.0
-0.11
-0.60
150
N40SH
12,600
12,900
11,700
13,700
20,000
28,000
38.0
41.0
-0.11
-0.60
150
N38SH
12,200
12,600
11,300
13,300
20,000
28,000
36.0
39.0
-0.11
-0.60
150
N35SH
11,700
12,200
11,000
12,000
20,000
28,000
33.0
37.0
-0.11
-0.60
150
N33SH
11,400
11,700
10,700
12,700
20,000
28,000
31.0
34.0
-0.11
-0.60
150
N30SH
10,800
11,400
10,200
12,200
20,000
28,000
28.0
32.0
-0.11
-0.60
150
N48UH
13,700
14,100
12,700
14,700
25,000
32,000
46.0
49.0
-0.10
-0.55
180
N46UH
13,500
13,700
12,500
14,500
25,000
32,000
44.0
47.0
-0.10
-0.55
180
N44UH
13,300
13,500
12,300
14,300
25,000
32,000
42.0
45.0
-0.10
-0.55
180
N42UH
12,900
13,300
12,200
14,200
25,000
32,000
40.0
43.0
-0.10
-0.50
180
N40UH
12,600
13,200
11,800
13,800
25,000
32,000
38.0
41.0
-0.10
-0.55
180
N38UH
12,200
12,600
11,500
13,500
25,000
32,000
36.0
39.0
-0.10
-0.55
180
N35UH
11,700
12,200
11,000
13,000
25,000
32,000
33.0
36.0
-0.10
-0.55
180
N33UH
11,400
11,700
10,700
12,700
25,000
32,000
31.0
34.0
-0.10
-0.55
180
N30UH
10,800
11,400
10,200
12,200
25,000
32,000
28.0
31.0
-0.10
-0.50
180
N45EH
13,100
13,700
12,200
14,200
29,000
36,000
42.0
46.0
-0.09
-0.50
200
N42EH
12,900
13,300
12,200
14,200
30,000
36,000
40.0
43.0
-0.09
-0.50
200
N40EH
12,600
12,900
11,800
13,800
30,000
36,000
38.0
41.0
-0.09
-0.50
200
N38EH
12,200
12,700
11,400
13,400
30,000
36,000
36.0
39.0
-0.09
-0.50
200
N35EH
11,700
12,500
11,000
13,000
30,000
36,000
33.0
37.0
-0.09
-0.50
200
N33EH
11,400
11,700
10,700
12,700
30,000
36,000
31.0
34.0
-0.09
-0.50
200
N30EH
10,800
11,400
10,200
12,200
30,000
36,000
28.0
31.0
-0.09
-0.50
200
N38AH
12,200
12,600
11,600
13,600
35,000
42,000
35.0
39.0
-0.09
-0.45
220
N35AH
11,700
12,200
11,100
13,100
35,000
42,000
32.0
36.0
-0.09
-0.45
220
N32AH
11,300
11,700
10,700
12,700
35,000
42,000
30.0
33.0
-0.09
-0.45
220
Alliance NdFeB Grades
Density
Tensile
Strength
Modulus
of Elasticity
Thermal
Expansion Coefficient /°C
Electrical
Resistivity
Curie

   

Temp
g/cm3
lbs/in3
psi
Pa
x 106
psi
x 106
Pa
x 109
ǁ
to M
Ʇ
to M
Ω-cm x10-6

@

20 C

°C

 

N55
>7.5
>0.271
12,000
83
22
152
3.4x10-6
-4.8x10-6
160.0
310
N53
>7.5
>0.271
12,000
83
22
152
3.4x10-6
-4.8x10-6
160.0
310
N52
>7.5
>0.271
12,000
83
22
152
3.4x10-6
-4.8x10-6
160.0
310
N50
>7.5
>0.271
12,000
83
22
152
3.4x10-6
-4.8x10-6
160.0
310
N48
>7.5
>0.271
12,000
83
22
152
3.4x10-6
-4.8x10-6
160.0
310
N45
>7.5
>0.271
12,000
83
22
152
3.4x10-6
-4.8x10-6
160.0
310
N42
>7.5
>0.271
12,000
83
22
152
3.4x10-6
-4.8x10-6
160.0
310
N40
>7.5
>0.271
12,000
83
22
152
3.4x10-6
-4.8x10-6
160.0
310
N38
>7.5
>0.271
12,000
83
22
152
3.4x10-6
-4.8x10-6
160.0
310
N35
>7.4
>0.268
12,000
83
22
152
3.4x10-6
-4.8x10-6
160.0
310
N33
>7.4
>0.268
12,000
83
22
152
3.4x10-6
-4.8x10-6
160.0
310
N30
>7.4
>0.268
12,000
83
22
152
3.4x10-6
-4.8x10-6
160.0
310
N52M
>7.5
>0.271
12,000
83
22
152
3.4x10-6
-4.8x10-6
160.0
310
N50M
>7.5
>0.271
12,000
83
22
152
3.4x10-6
-4.8x10-6
160.0
310
N48M
>7.5
>0.271
12,000
83
22
152
3.4x10-6
-4.8x10-6
160.0
310
N45M
>7.5
>0.271
12,000
83
22
152
3.4x10-6
-4.8x10-6
160.0
310
N42M
>7.5
>0.271
12,000
83
22
152
3.4x10-6
-4.8x10-6
160.0
310
N40M
>7.5
>0.271
12,000
83
22
152
3.4x10-6
-4.8x10-6
160.0
310
N38M
>7.5
>0.271
12,000
83
22
152
3.4x10-6
-4.8x10-6
160.0
310
N35M
>7.5
>0.271
12,000
83
22
152
3.4x10-6
-4.8x10-6
160.0
310
N33M
>7.5
>0.271
12,000
83
22
152
3.4x10-6
-4.8x10-6
160.0
310
N30M
>7.5
>0.271
12,000
83
22
152
3.4x10-6
-4.8x10-6
160.0
310
N50H
>7.5
>0.271
12,000
83
22
152
3.4x10-6
-4.8x10-6
160.0
310
N48H
>7.5
>0.271
12,000
83
22
152
3.4x10-6
-4.8x10-6
160.0
310
N45H
>7.5
>0.271
12,000
83
22
152
3.4x10-6
-4.8x10-6
160.0
310
N42H
>7.5
>0.271
12,000
83
22
152
3.4x10-6
-4.8x10-6
160.0
310
N40H
>7.5
>0.271
12,000
83
22
152
3.4x10-6
-4.8x10-6
160.0
310
H38H
>7.5
>0.271
12,000
83
22
152
3.4x10-6
-4.8x10-6
160.0
310
N35H
>7.5
>0.271
12,000
83
22
152
3.4x10-6
-4.8x10-6
160.0
310
N33H
>7.5
>0.271
12,000
83
22
152
3.4x10-6
-4.8x10-6
160.0
310
N30H
>7.5
>0.271
12,000
83
22
152
3.4x10-6
-4.8x10-6
160.0
310
N50SH
>7.5
>0.271
12,000
83
22
152
3.4x10-6
-4.8x10-6
160.0
310
N48SH
>7.5
>0.271
12,000
83
22
152
3.4x10-6
-4.8x10-6
160.0
310
N46SH
>7.5
>0.271
12,000
83
22
152
3.4x10-6
-4.8x10-6
160.0
310
N44SH
>7.5
>0.271
12,000
83
22
152
3.4x10-6
-4.8x10-6
160.0
310
N42SH
>7.5
>0.271
12,000
83
22
152
3.4x10-6
-4.8x10-6
160.0
310
N40SH
>7.5
>0.271
12,000
83
22
152
3.4x10-6
-4.8x10-6
160.0
310
N38SH
>7.5
>0.271
12,000
83
22
152
3.4x10-6
-4.8x10-6
160.0
310
N35SH
>7.5
>0.271
12,000
83
22
152
3.4x10-6
-4.8x10-6
160.0
310
N33SH
>7.5
>0.271
12,000
83
22
152
3.4x10-6
-4.8x10-6
160.0
310
N30SH
>7.5
>0.271
12,000
83
22
152
3.4x10-6
-4.8x10-6
160.0
310
N48UH
>7.5
>0.271
12,000
83
22
152
3.4x10-6
-4.8x10-6
160.0
310
N46UH
>7.5
>0.271
12,000
83
22
152
3.4x10-6
-4.8x10-6
160.0
310
N44UH
>7.5
>0.271
12,000
83
22
152
3.4x10-6
-4.8x10-6
160.0
310
N42UH
>7.5
>0.271
12,000
83
22
152
3.4x10-6
-4.8x10-6
160.0
310
N40UH
>7.5
>0.271
12,000
83
22
152
3.4x10-6
-4.8x10-6
160.0
310
N38UH
>7.5
>0.271
12,000
83
22
152
3.4x10-6
-4.8x10-6
160.0
310
N35UH
>7.5
>0.271
12,000
83
22
152
3.4x10-6
-4.8x10-6
160.0
310
N33UH
>7.5
>0.271
12,000
83
22
152
3.4x10-6
-4.8x10-6
160.0
310
N30UH
>7.5
>0.271
12,000
83
22
152
3.4x10-6
-4.8x10-6
160.0
310
N45EH
>7.5
>0.271
12,000
83
22
152
3.4x10-6
-4.8x10-6
160.0
310
N42EH
>7.5
>0.271
12,000
83
22
152
3.4x10-6
-4.8x10-6
160.0
310
N40EH
>7.5
>0.271
12,000
83
22
152
3.4x10-6
-4.8x10-6
160.0
310
N38EH
>7.5
>0.271
12,000
83
22
152
3.4x10-6
-4.8x10-6
160.0
310
N35EH
>7.5
>0.271
12,000
83
22
152
3.4x10-6
-4.8x10-6
160.0
310
N33EH
>7.5
>0.271
12,000
83
22
152
3.4x10-6
-4.8x10-6
160.0
310
N30EH
>7.5
>0.271
12,000
83
22
152
3.4x10-6
-4.8x10-6
160.0
310
N38AH
>7.5
>0.271
12,000
83
22
152
3.4x10-6
-4.8x10-6
160.0
310
N35AH
>7.5
>0.271
12,000
83
22
152
3.4x10-6
-4.8x10-6
160.0
310
N32AH
>7.5
>0.271
12,000
83
22
152
3.4x10-6
-4.8x10-6
160.0
310